Outlet to Share Feelings Fears and Successes
"… I have had a problem with pornography for many years and had tried in vain to deal with it on my own. Because of the negative aspect of such a problem, it was something that I was too ashamed to talk to anyone else about, including my parents, friends, and even my wife.
I went to my ecclesiastical leader on occasion to talk to him and to get counsel and guidance. Most of the counsel I received was that I should read my scriptures more, pray harder, and/or sing hymns when I was being tempted. I took that counsel to heart but I just couldn't understand why that didn't work for me.
I finally moved into a location where the leader was familiar with Utah Family Therapy's Treatment System and referred me to the program. I was taught that I had become addicted to pornography and that I needed to 'rewire my brain' because I had allowed the addiction to control my reaction to certain stimuli.
Discuss Porn Addiction with Others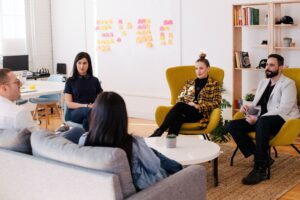 The program has helped me develop techniques that help me to understand how to deal with the addiction and how to break the addiction cycle. One of the most important aspects of the program, for me, is the opportunity to discuss the addiction with others who are struggling with similar issues.
Most of the people I have met in the program are people who have testimonies of the Gospel but who are struggling with the 'second life' they are living as pornography addicts. I always felt alone trying to deal with the problem, even after visiting the Bishop I still felt like I was left by myself to figure things out.
The Utah Family Therapy program has given me an outlet to share my feelings, my fears and my successes in an understanding environment. I will admit that I haven't been perfect, I have had setbacks but I feel much better equipped to deal with these setbacks now that I have been involved with Utah Family Therapy.
I finally feel like somebody understands me and I have an outlet to share what I am going through and has given me the appropriate tools to deal with pornography addiction. These tools continue to help me even though I have recently moved…"
Please call Utah Family Therapy today so you can start your healing 801.901.0279