We have a phenomenal team, and I'm going to take the opportunity here to brag about them. 🙂
Compassionate, loving, kind, and caring Brad Tanner.
You may know him as Brad, Mr. Tanner, or even a brainspotting therapist. We also know him as an amazing, talented, gifted IOP Director.
Yes, Brad wears many hats, but directing the IOP is his latest. His love and compassion for everyone, including staff, are evident. One of his greatest desires is to help you heal. Brad puts the 'L' in Love. He loves and cares about all of those he meets.
---
The outstanding, thoughtful, and fun Matthew Benavidez.
Matthew is our dog whisperer and uses a therapy dog. With Matt's background, he can help you struggling with a crisis of faith, couples, and trauma. Matthew became an EMDR therapist and, through the process, recognized the value of animals in therapy. Matthew brought Sequoia to the team, a beautiful white German Shepherd. Matthew's skills are on the rise with his desire to help you.
---
Haylee, throw love at them, Heyn.
Haylee loves the message that was sung by the trolls in Frozen, the Disney movie. "People make bad choices when they are mad or scared or stressed but throw a little love their way, and you will bring out their best." This is the way Haylee approaches everything, throw some love at it, and things will start to improve. Haylee loves you, too.
---
Next is the faces you meet when you walk in the door to help you feel right at home:
Dorothy, nothing's going to stop me, Oswald.
Dorothy is that kind and caring voice that greets you when you walk in or call to schedule an appointment. She's the assistant office manager making sure we keep flowing in the right direction.
---
Jen, the superglue of the office Robison.
Jen should also be called superwoman, wonder woman, amazing woman, I can't believe she did it, woman. Jen is spectacularly bridging the gap of insurance to help better understand what's going on so she can help you… When we asked Jen to jump in, she did, both feet, and has done a marvelous job. Jen is our insurance liaison and Jedi Master.
---
None of this would be possible without my friend and founder:
Rob, I can't believe I'm sane, Robison.
I could go on and on about my business partner, Rob. Rob brings humor, love, and compassion to the team. He loves his employees, his family, and his clients. His drive is renewed every time he sits down with a young man and hears their story. He's a true friend, driven by his passion.
---
Tony, I won't stop until we're finished, Rhoton, Co-Founder
I love this work. I'm the business marketing, strategy, and communications engine. When Rob and I reconnected in 2006, my life changed forever, and I am passionate about doing my part to help you.
"My anxiety just melts away when I come here." – J.P.
Step 1 - Call 801.901.0279
Call us at (801) 901-0279 to schedule an assessment.
Schedule a time for the assessment.
Step 3 - Talk to a Therapist
Talk with a compassionate and caring therapist.
or Fill Out the Form Below
Daniela Cadmus MFTI Meet Daniela Cadmus Hispanic Therapist Daniela Cadmus, was born in Mexico City and lived there for most of her life. Her whole family
Read More »
Matthew Benavidez Licensed Marriage & Family Therapist What You'll Learn About Matthew Benavidez Matthew Benavidez Couples Therapist Working with couples has always been a passion
Read More »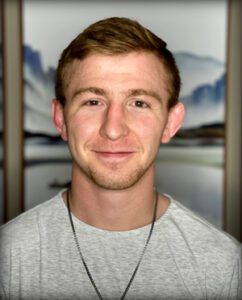 Taylor LaMont LAMFT What You'll Learn About Taylor Lamont Taylor LaMont Marriage & Family Therapist When it comes to having a personal and positive mindset,
Read More »