Too Many Youth Offenders Taken From Home Utah Family Therapy's Early Intervention Services
I just read an article on KSL about too many youth offenders being taken from the home and making them worse. Here's a summation of the article.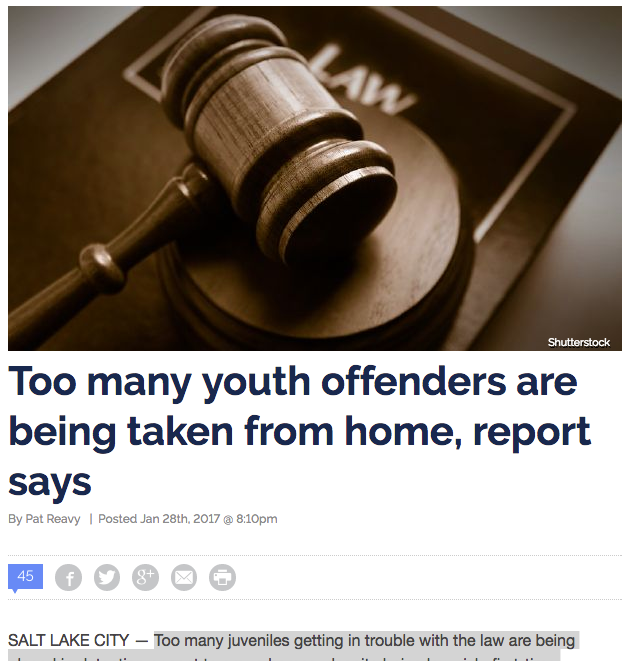 Too many juveniles getting in trouble with the law are being placed in detention or sent to group homes, despite being low-risk, first-time offenders, according to a new report from the state.
It costs the state more money, and many juveniles turn out worse.
Based on the findings, the Utah Juvenile Justice Working Group is planning to introduce a bill during the 2017 legislative session that will bring more consistency to the Juvenile Justice Services regarding sentencing, fines and other penalties, and getting juveniles the resources they need.
Sending Children Away More Expensive
The state is currently spending $90,000 a year locking a child up in a long-term secure facility. We can pay approximately $3,000 per child delivering early intervention services, Susan Burke, director of Juvenile Justice Services, told the Executive Offices and Criminal Justice Appropriations Subcommittee during budget proposal hearings at the state Capitol Friday.
In surveys, probation officers and JJS case managers reported that the options and availability of effective services for youth living at home vary regionally and that youth often encounter barriers to service, such as limited transportation, long wait lists and high costs to families, the report states.
Custody For Delinquency
Hispanic youth charged with misdemeanors make up 43 percent of JJS nonsecure out-of-home placement, but only 23 percent of new cases coming into the system, and African-American youth make up 5 percent of new misdemeanor cases coming into the system, but nearly three times that proportion of youth placed in custody solely for delinquency.
As part of the Juvenile Justice Services budget proposals, Burke said Friday the department is asking for $30 million to renovate and expand the Wasatch Youth Center, 3534 S. 700 West, currently housed in a 50-year-old building.
Part of that money will be used to establish more early intervention services and training based out of the building.
Utah Family Therapy: 801.901.0279