Nobody likes to admit they are an addict or have
significant issues, especially young people. They put up walls
with many faces: Anger, solemnity, depression, perfection,
suicidal tendencies and more.
Why?
This fear is also known as SHAME!
Every child, teenager and young adult struggles at some point in their life.
We have all been there as parents saying one of two things:
"Something is wrong but they won't open up and be honest."

"We know what's wrong but they aren't improving or things are getting worse."
These feelings can be overwhelming and even hopeless at times. NOTHING IS WORSE AS A PARENT THAN NOT KNOWING WHAT IS WRONG OR HOW TO HELP YOUR CHILD.
We have also seen what it is like when a child opens up and heals; when issues are overcome and relationships mend. At Utah Family Therapy we have spent 1000s of hours walking parents and their children through this process of healing and connection.
It's what we do; identify the issues and use positive methods of healing.
Watching a child suffer, the tears, defiance, withdrawing, addiction, failure, not wanting to connect or connecting with massive emotional volatility; the emotional roller coaster that you are experiencing is exhausting.
We can empathize and have had our own nights of tears wishing we could make it all better for our own families. It is knowledge of the pain and wisdom in the joy of healing that has driven us to create Utah Family Therapy.
Please get to know us, the founders ofUtah Family Therapy.
Robert Robison and Tony Rhoton
---
Robert Robison
At 26, Robert got his Masters in business, ran a successful retail company, and was a consultant for dozens of other businesses. He realized working with people was his passion but wanted to heal lives and families more than businesses.
7 years ago Rob had a vision he followed.
It was an abrupt change followed by getting a 2nd masters degree and digging deep into family psychology, shame-based healing, and connection. Since Rob has been counseling and helping teens and young adults, he has seen miraculous changes in the clients he and his team work with. You can read some testimonials here.
Rob trains and works alongside all Clinicians in the same methodologies and mission: Healing teens, young adults, and their families; Compassion, no shame, accountability, and positive methods.
Rob saw the trends of 1000s of youth and young adults hating themselves and disconnecting from family and even life.
He spent many hours working with all ages and learned 2 important lessons:
Working with the family system is essential to long-term change and healing.

A focus on teens and young adults sets a platform of healing that not only changes the young individual but generations to come.
Rob works with all ages but prioritizes family systems with a focus on young people and couples as his core.
Rob enjoys the outdoors, especially fishing. He plays basketball but claims his age is becoming an issue there. Spending time with his wife and 6 children is where he finds his greatest joy.
Those who know Rob describe him as high energy, zany, and full of compassion. He spent a year working as an improv comedian as well.
---
Tony Rhoton
Several years ago, while Tony (I) was running my marketing/design company, Rob approached me and said,
"Can you help a friend of mine get his product out to the world? He doesn't have much in the budget but really has a great product."
Being a friend, I told him I would look into it.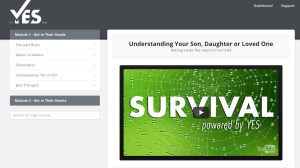 Little did I know that this would change my life forever. I helped the company (Innergold) that Rob told me about launch an online Pornography Addiction Treatment System.
The more I got involved with the work of helping others with their mental health, the more I lost myself in the work. I allowed my company, Akdia, to shrink in size so I could put all my focus and energy into Innergold.
After several years, Rob and I decided we needed to launch our own clinic so we can help thousands and thousands of people and our growth goals did not line up with Innergold.
Our desire and our goal are to become the go-to place for helping teens and young adults with addiction and other mental health needs.
Launch of Utah Family Therapy
We launched YES and then changed the name to Utah Family Therapy a little over two years ago and have been slowly building it.
Every therapist and mentor we bring on matches our passion to heal with compassion. Our team is versatile, having experience ranging from child play therapy to a therapist who has worked in an ER with trauma therapy; and everything in between.
We are all extensively training in working with teens, young adults, and their family systems.
We don't hire just anyone. We make sure their passion, their drive, and desire is to see each client find the healing they need.
In a nutshell, we see if they know how to empathize and work without shame.
Why are you here? Why have you read to this point?:
Your

child is struggling

and you and/or they

need help

.

You were

just curious

because of the ad.

You are wanting to

learn more

about Utah Family Therapy

You are another clinic wondering how we have become successful.

(Here is the secret: Our passion is in compassion. Our drive for true non-shame based healing is so deep it becomes contagious).
No matter why the reason you are here,

welcome

.
You are in the right place at the right time.
Even if we are not the right fit, please allow us to help you find someone in our network of trusted providers.
We don't believe in chance, we believe in hope and healing. Even if you clicked on an ad we created, we believe you are here for a purpose and we can help you with that purpose.
Call us 801.901.0279 so we can help you.
How can Utah Family Therapy help you?
Whether an issue is minor or intense, if it relates to a child, teen, or young adult; that is why we are here. We also have an extensive network of partnered therapists we can guide you towards. Let us help consult you towards trusted and skilled providers with proven track records.
Call Utah Family Therapy today 801.901.0279